NI retailers plead for re-opening date as footfall languishes: NIRC
NIRC-SENSORMATIC IQ FOOTFALL MONITOR – MARCH 2021
Covering the five weeks 28 February 2021 – 03 April 2021
2020 was a turbulent year in which much of retail bounced between being open and closed, impacting footfall significantly, says NI Retail Consortium. To make meaningful comparisons to changes in footfall, all 2021 figures are compared with 2019 (pre-pandemic). This means that the 2021 figures are now year-on-two-years (Yo2Y), rather than year-on-year (YoY).
Decrease by 56.4%
According to NIRC-Sensormatic IQ data Northern Ireland footfall decreased by 56.4% in March (Yo2Y), a 7.4 percentage point increase from February. This is above the UK average decline of 68.7% (Yo2Y). This meant Northern Ireland saw the shallowest decline in footfall for the fourth consecutive month out of all UK regions.
Shopping Centre footfall declined by 72.0% in March (Yo2Y) in Northern Ireland, up from -76.5% in February.
In March, footfall in Belfast decreased by 56.6% (Yo2Y), a 6.4 percentage point improvement from February.
'Woeful'
Aodhán Connolly, Northern Ireland Retail Consortium Director, said: "Shopper footfall continued to be woeful last month under the weight of the pandemic and the government's stay-at-home order and compulsory store closures. Visits to Northern Ireland's retail destinations languished over half lower than they would traditionally at this time of year, unsurprising given shoppers were only able to access a limited range of so-called essential stores. All retail destinations suffered, most notably city centres and shopping malls.
'Broader ecosystem'
"Northern Ireland remains the only part of the UK that doesn't have a firm date for the full reopening of retail and it is something that our members are clamouring for.  Reopening is just the first step though. Shops will be unable to trade at capacity due to physical distancing, and the broader ecosystem upon which much of retail depends – such as hospitality and eating out – is unlikely to have fully re-opened. The high street is not properly open until it is all open. We have always said it is not what you sell but whether you can sell it safely.
Crisis
"Northern Ireland's shops and the 100,000 jobs they provide directly – with many more in the supply chain – will only survive with the patronage of the public. Swathes of the industry remains in crisis, and questions remain over what demand will look like for the remainder of the year. If we don't have dates for reopening soon and a properly funded recovery, NI's high streets  could look significantly different."
 Roadmap
Andy Sumpter, Retail Consultant EMEA for Sensormatic Solutions, said "As the nation looks ahead to the roadmap for unlocking and with the hope of retail fully reopening on the horizon, we may have started to see the green shoots of retail's recovery beginning as we saw an incremental improvement in March footfall against February's shopper counts.  Fuelled by growing consumer confidence and the promise of greater freedom to come, while marginal, the improvement in shopper traffic will be encouraging to retailers.
Stability
"But, the real test comes when retail is able to fully reopen – and whether indeed that reopening is, as hoped, irreversible.  After a year of yoyoing in and out of lockdown, retailers will be hoping for stability and, once again, will be counting on the continued support of shoppers if any sort of bounce back is to be sustained.  Having invested heavily to ensure their stores remain as safe as possible for shoppers to return, the onus is now on the consumer to vote with their feet and 'use or lose' the shops they previously frequented."
MONTHLY TOTAL NORTHERN IRELAND RETAIL FOOTFALL (% CHANGE WITH 2019)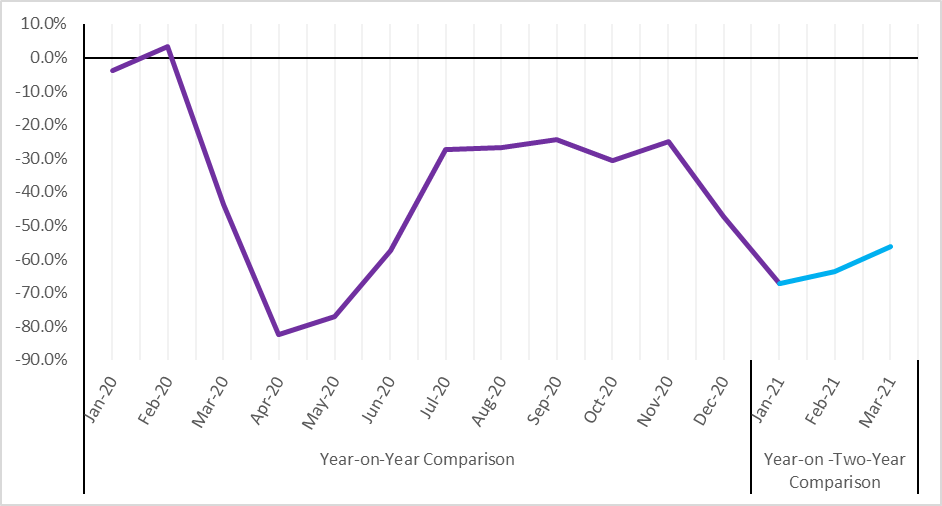 MONTHLY TOTAL UK RETAIL FOOTFALL (% CHANGE WITH 2019)
TOTAL FOOTFALL BY REGION (% CHANGE WITH 2019)
| | | |
| --- | --- | --- |
| GROWTH RANK | REGION | % GROWTH Yo2Y |
| 1 | Northern Ireland | -56.40% |
| 2 | East of England | -65.30% |
| 3 | South East England | -65.80% |
| 4 | Scotland | -66.30% |
| 5 | North West England | -68.10% |
| 6 | South West England | -68.10% |
| 7 | West Midlands | -68.30% |
| 8 | England | -68.70% |
| 9 | East Midlands | -68.90% |
| 10  | Yorkshire and the Humber | -69.70% |
| 11  | North East England | -70.80% |
| 12  | Wales | -71.20% |
TOTAL FOOTFALL BY CITY (% CHANGE WITH 2019)
| | | |
| --- | --- | --- |
| GROWTH RANK | CITY | % GROWTH Yo2Y |
| 1 | Belfast | -56.6% |
| 2 | Glasgow | -68.2% |
| 3 | Birmingham | -68.9% |
| 4 | Cardiff | -71.3% |
| 5 | London | -71.4% |
| 6 | Liverpool | -71.7% |
| 7 | Bristol | -74.5% |
| 8 | Nottingham | -74.5% |
| 9 | Leeds | -76.0% |
| 10 | Manchester | -83.2% |
| 11 | Portsmouth | -92.1% |