Footfall bounceback has begun but still much work to be done
NIRC Sensormatic IQ Data – Covering the four weeks 2 – 29 May 2021
2020 was a turbulent year in which much of retail bounced between being open and closed, impacting footfall significantly. To make meaningful comparisons to changes in footfall, all 2021 figures are compared with 2019 (pre-pandemic). This means our 2021 figures are now year-on-two-years (Yo2Y), rather than year-on-year (YoY).
According to NIRC-Sensormatic IQ data Northern Ireland footfall decreased by 14.9% in May (Yo2Y), a 40.5 percentage point increase from April. This is above the UK average decline of 27.7% (Yo2Y). Northern Ireland saw the shallowest decline in footfall of all UK regions.
Shopping Centre footfall declined by 4.2% in May (Yo2Y) in Northern Ireland, up from -64.2% in April.
May footfall – down 20%
In May, footfall in Belfast decreased by 20.3% (Yo2Y), a 35.0 percentage point improvement from April.
 Aodhán Connolly, Director of the Northern Ireland Retail Consortium, said:
"The recovery in shopper footfall gathered momentum in the first full month that shops were able to open since NI's lockdown was lifted in late April with a surge as shoppers returned to our high streets, shopping centres and other retail destinations in May."
"But as we predicted this will not be a V shaped recovery. Visits to retail destinations still languished almost 15% lower than during the comparable period two years ago. We are still missing our cohort of workers in our towns and cities who are still working from home and others have yet to venture to our retail destinations."
Slow pace of recovery
"This slow pace of recovery is particularly felt by those fast-food retailers and self-service cafes who simply don't have the capacity or the business model to deliver the table-only service that has been mandated by the Northern Ireland Executive in a move the prevents them from opening fully and competing with others that can. This draconian measure needs lifted immediately as our member have gone above and beyond to provide covid safe spaces for customers and colleagues alike.
Magic bullet
"Reopening alone has yet to prove a magic bullet for our hard-pressed retail industry. Without a rebound in footfall and increased demand, many retailers will struggle to make ends meet, placing a question mark over the viability of stores and jobs and the vitality of our retail destinations. Retailers are playing their part in trying to tempt shoppers, but policy makers need to think more creatively too about how they might reignite consumer confidence, entice people back into our retail destinations."
 Andy Sumpter, Retail Consultant EMEA for Sensormatic Solutions, said:
"May saw a slow but steady recovery for the High Street as shoppers continued to return to bricks-and-mortar stores.  The improved shopper counts will have been helped by the reopening of indoor hospitality, which helped drive ambient footfall as consumers combined store visits with leisure and socialising.
While still down compared to pre-pandemic levels, we've seen cautious but consistent improvement to footfall with each passing month as society unlocks and the vaccine roll-out continues at pace, giving retailers a cause for cautious optimism.  However, the prospect of a sustained recovery is still very much hanging in the balance, with variants of concern and an uptick in infection rates threatening to undermine consumer confidence."
MONTHLY TOTAL NORTHERN IRELAND RETAIL FOOTFALL (% CHANGE WITH 2019)
UK FOOTFALL BY LOCATION (% CHANGE WITH 2019)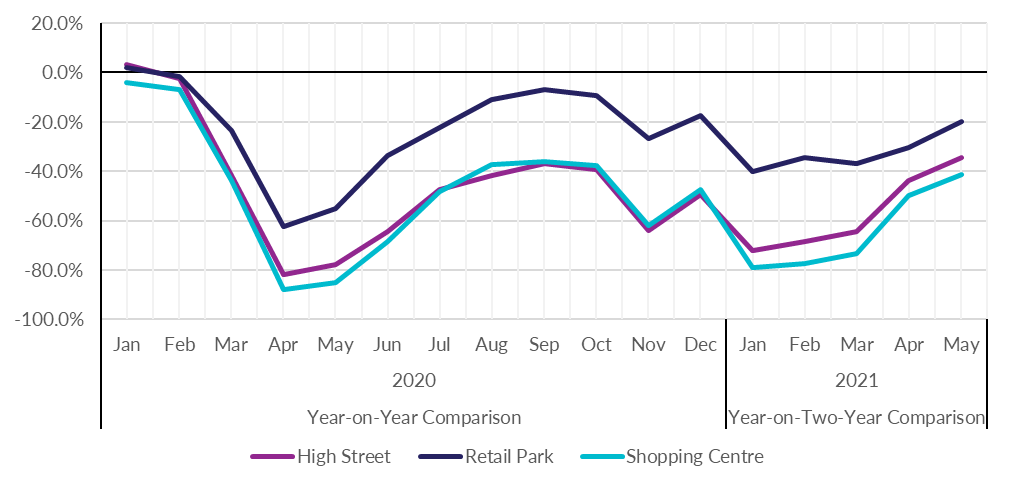 TOTAL FOOTFALL BY REGION (% CHANGE WITH 2019)
| | | |
| --- | --- | --- |
| GROWTH RANK | REGION | % GROWTH Yo2Y |
| 1 | Northern Ireland | -14.9% |
| 2 | East Midlands | -23.6% |
| 3 | East of England | -23.6% |
| 4 | North West England | -24.1% |
| 5 | South West England | -24.4% |
| 6 | Scotland | -24.7% |
| 7 | South East England | -25.7% |
| 8 | West Midlands | -28.1% |
| 9 | Yorkshire and the Humber | -28.1% |
| 10 | England | -28.5% |
| 11 | North East England | -28.8% |
| 12 | Wales | -30.1% |
| 13 | London | -37.5% |
TOTAL FOOTFALL BY CITY (% CHANGE WITH 2019)
| | | |
| --- | --- | --- |
| GROWTH RANK | CITY | % GROWTH Yo2Y |
| 1 | Belfast | -20.3% |
| 2 | Liverpool | -22.5% |
| 3 | Glasgow | -23.1% |
| 4 | Leeds | -24.3% |
| 5 | Cardiff | -25.2% |
| 6 | Bristol | -27.9% |
| 7 | Nottingham | -28.1% |
| 8 | Manchester | -29.1% |
| 9 | Portsmouth | -34.1% |
| 10 | Birmingham | -35.6% |
| 11 | London | -36.6% |
Neighbourhood Retailer
Newsletter Sign Up Link > http://eepurl.com/deWOqf